We engaged Northview Creative to assist with layout, print-work and production of an interactive PDF document. We found Nikk and his team to be responsive, fast and very competitive. We have a similar print project in the pipeline and will again request their assistance for that. l would have no hesitation recommending Northview Creative to anyone requiring an attentive print supplier.
I am taking this opportunity to publicly thank you and your staff for all the help Surecare plumbing received from Northview Creative graphic design and print in the development of our business cards. Your knowledge and advice instrumental in the content and design of our promotional flyers. was care plumbing are building a strong reputation on excellent customer service, this of course means valuing the products and services we supply to our customers, it's always nice to deal with a like minded company who can still find time for to answer questions for their customers no someone matter how small the query I will be glad to deal with you again when I place my next order and will not hesitate to recommend you to my customers, family and friends.
Mitchell Wealth Management provides high quality advice to our clients and builds long term relationships.
As an extremely busy financial services business, we are always looking for suppliers who work to the same high standards we offer to our clients.
I contacted Northview Creative at short notice to print testimonials for an exhibition Mitchell Wealth Management were attending. Upon sending our home made creations, Nikk provided us with his professional opinion on how it should look to get the most out of our promotional literature.
Northview Creative managed to turn our request around from instruction to finished product to a fantastic standard. As a result, we would be delighted to recommend Nikk to our colleagues and clients.
We asked Northview Creative to do some business cards and letterheads for our new Company, Nikk and his team got back to me within a few days with the design for these. We asked for some changes to be made a few times, each time the changes asked for were made and the new designs were sent through within the same day.
The products were delivered within a few days and we were really pleased with them.
We will be working with Northview Creative again in the future and would not hesitate to recommend them to any of our clients.
Their service was brilliant and printing and delivery time was better than expected.
I asked Northview Creative, on behalf of BNI Aurora, to arrange a pull up banner using the BNI artwork for our weekly meeting at short notice. Northview Creative took the artwork from me on the Monday afternoon and, in his words, would knock something up for us to use.
I was delighted to receive the pull up banner on the Wednesday morning in its full glory and functioning perfectly.
The work was carried out in a timely manner which exceeded my expectation and also was professionally done to the correct spec.
Having experienced this professional approach to a request for some print work, I would have no hesitation referring Northview Creative to my friends and business contacts, as I know now from personal experience that this firm carry out a professional job in a timely and understanding manner with a resultant quality product at a reasonable price.
Carmel Harrison PR came to you for some marketing material for a conference we were attending ten days later.
Your response was first class and immediate.
With a short deadline, you asked the right questions to ensure that my brief was met perfectly.
When we supplied you with design material you checked it and highlighted features to improve the look and feel, then you swung into action.
Within seven working days of my request I had a pull up banner that reflected perfectly my brand values and the message I was looking to amplify to the conference attendees.
Since then I have also asked you other marketing material queries that you have succinctly and professionally answered.
I would have no issue using you or recommending you to any of my clients or contacts.
I approached Northview Creative because I was looking for a high quality business card following a rebrand for Euphoric.
It was extremely important that we found a company to partner with that could understand what we wanted to achieve both in the short terms, but also longer term.
Nick was extremely helpful and suggested several options that would fit our brief, including high quality options that were much cheaper than our initial budget.
We're delighted with our final product, and I know that no one else has the quality of printed cards Euphoric does.
It's important for Euphoric to find partners and that is exactly what I consider Northview to be.
I would have no reservations recommending Northview to any of my business contacts in the future.
Last week we asked Northview Creative at very short notice to produce some business cards for one of our clients, Key Security. I gave you the enquiry at 10pm on Monday night, you had the artwork by 10am Tuesday morning and you delivered the completed cards at 6.30am on the Wednesday. To say we were all impressed by your service is an understatement.
The quality of full colour, two sided business cards is excellent. With the card backs printed in black, sometimes this look washed out but the job you did was of a very high standard and the can colour was bold, having the desired effect.
I want to thank you for super-fast turnaround and for delivering a high quality job without any messing around, as always I have no hesitation in recommending you and Northview Creative to my contacts.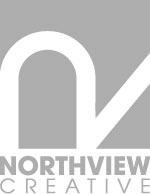 Northview Creative, Oak Barn, Royds Green Farm, Royds Lane, Oulton, Leeds, LS26 8EZ. 0113 28 28 779
Northview Creative Limited. Registered in England Number: 4961799